AMERICAN CARPET ONE
The World Floor Covering Association (WFCA) recently featured Honolulu Hawaii's American Carpet One in the May/June edition of Premier Flooring Retailer magazine as the winner of the association's 2014 Gold Standard Award for Excellence in retailing. American Carpet One not only won this award because of their excellence as retailers, but also for their consistent commitment to community service.
American Carpet One opened its doors in 1972 as the Carpet Shoppe with just five employees. When the Carpe Shoppe joined Carpet One in 1988, the company changed its name to American Carpet One, and the rest is history!
"Since 1988, American Carpet One has been a shining example of excellence in floor covering retail" said Howard Brodsky, co-founder, chairman and co-chief executive officer of CCA Global Partners.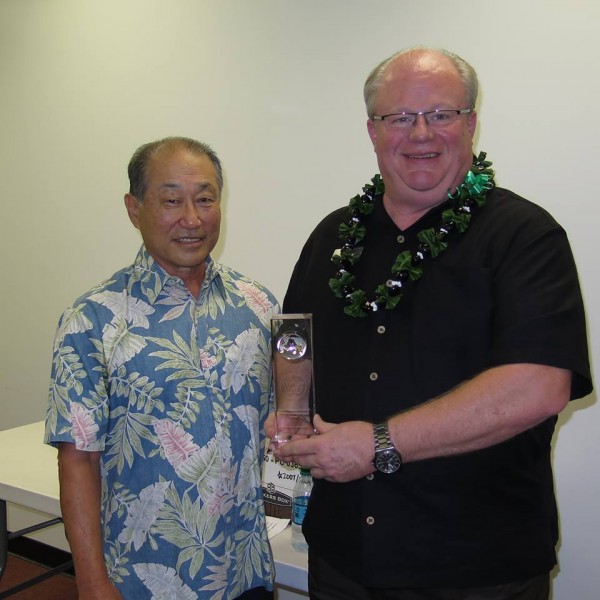 Scott Humphrey, Chief Executive Officer, World Floor Covering Association (WFCA) presenting David Arita, President American Carpet One with the 2014 Gold Standard Award trophy
41 years later American Carpet one continues to give back to their customers and the community. In November 2014, Hawaii Business magazine ranked them #61 within Hawaii's most charitable companies. The company has ongoing involvement with The Salvation Army, four local universities, several schools, Humane Society, the Aloha United Way, State of Hawaii Adopt-A-Highway program, Toys for Tots, and in 2014 they even hosted their first Adopt-A-Pet Day.
David Arita, President American Carpet One, also gives his time to educate the community on flooring and installation practices by being a part of The Institute of Real Estate Management (IREM), Rotary, BNI, Honolulu Association of Insurance Professionals (HAIP), Honolulu Board of Realtors (HBR), and the Chamber of Commerce to name just a few!
Winning the Gold Standard Award not only bestows recognition and honor upon the winner, annual recipients are also awarded with a $5,000 check. Keeping in line with their history of giving back, American Carpet One will be sharing their cash award with charities and their employees!
Arita said of his generosity, 'This is very huge for all of us. The employees all deserve a pat on the back and an acknowledgement for winning this award. It will prove to them that our hard work and effort as a team has paid off. Each and every person is to be congratulated. Everyone in the company is important and plays a very important role to our success."
Congratulations American Carpet One!