CARPET ONE FLOOR & HOME
June 29th, 2015 marked the groundbreaking ceremony in Nokesville, VA for USMC Cpl. (retired) Adam Devine and his family. The groundbreaking is part of the "Building for America's Bravest 4 for the 4th" program. This program will either deliver the keys to, or break ground for, four homes for service members who have been catastrophically injured in war.
The smart home, will be equipped with customized features to allow ease of use for Cpl. Devine who suffered injuries in Afghanistan. Right after Christmas in 2011, Devine was in an IED explosion which resulted in the loss of both of his legs, a perforated eardrum, and a broken bone at the base of his spine. In a 2012 Skype interview from Walter Reed Army Medical Center in Bethesda, MD, Cpl. Devine, who is a Purple Heart recipient, credited his survival to the fast reaction of the corpsmen (medics) who applied tourniquets to keep his bleeding under control.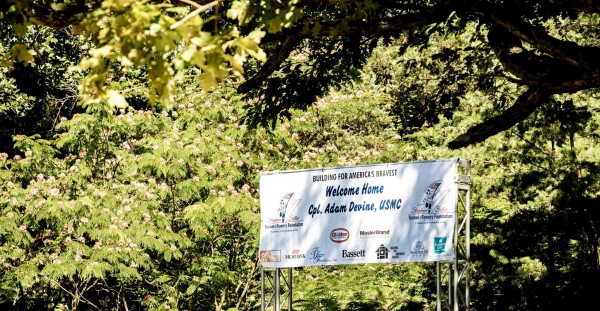 The smart home will include customized features in the master suite, a customized bathroom, and high-tech features throughout the home that can be run with an iPad. Carpet One Floor & Home will be providing the installation of all of the flooring in the home.