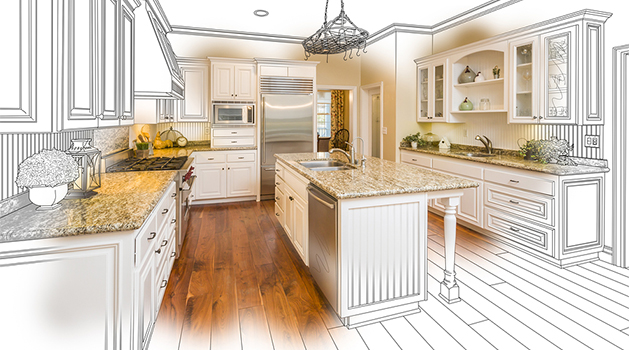 Sometimes getting started can be the hardest part of remodeling your space. Knowing these five simple steps will help guide you in the right direction:
Step 1: Gather Inspiration
Inspiration for your home can be found in a lot of different areas like design blogs, art, home magazines, nature, fashion styles or even travel destinations. Carpet One Floor & Home has many tools to help you gather your inspiration. Start in the Inspiration section of our website to find looks you love. You can even save your favorites to your Carpet One account. You may also want to browse popular social networks like Pinterest and Houzz; both online sites provide beautiful room visuals and allow you to collect ideas in one place. If you prefer looking at magazines, flag the items that interest you and keep them in a folder for quick reference.
Step 2: Identify Goals
When it comes to redesigning a room, you'll want to prioritize your "to do" list and determine which projects should be completed first. Think about goals for the space in terms of style and function. Start by tackling larger projects like major repairs or installing new floors. Completing these larger projects will make the biggest impact in the room's renovation. Not only will you feel a sense of accomplishment, you'll have a better idea of the budget remaining for smaller projects such as painting and room décor.
Step 3: Set Budget & Timeline
Take time to sit down and figure out how much you want to spend and when you want to be done. Having a budget and timeline will help you avoid over-spending and ensure your project doesn't linger. This will also help your flooring consultant and other professionals assist you in your project. Unsure of how to get started? Click here to find out what you should consider when creating your flooring budget.
Step 4: Do Your Research
Research is all about discovering the different products that could be incorporated into the design of your new room. Unlike inspiration, you'll want to take note of the functionality and price of products as well as how they fit the style you want. Carpet One Floor & Home has several resources to help get you started in the right direction. The SelectAFloor Finder will help narrow your choices down based on your personal preferences and lifestyle needs, while the Room Visualizer allows you to virtually "try on" any flooring product right in your own home. Once your vision begins to come to life and you're ready to buy, make sure you've done your research on all the available options.
Step 5: Start Shopping
As you begin to look as specific products for your renovation, be realistic and keep your budget in mind. It's easy to fall in love with a gorgeously designed kitchen on Pinterest, but it's important to manage expectations. With the use of our tools, and a little planning and creativity, any look or style can be achieved by bringing together the right mix of budget-friendly elements into a room or home. Remember, a project in your home doesn't have to be stressful or overwhelming. Taking your time and having a plan can make it enjoyable and rewarding.