How to Choose Carpet | Carpet Face Weight & Other Features
If you love stepping foot on supremely soft carpet styles you are certainly not alone. In the United States, carpet accounts for more sales than all other flooring types. It seems that everyone down to our kids and pets love the feel of a plush pile underfoot, perfect for playing, watching a movie, and making family memories together.
If you have your heart set on bringing home the right carpet for your home, an understanding of carpet, carpet construction, carpet density, and more, will prove beneficial for long-term success in your home. Learn all you need to know about carpet here before determining what the best type of carpet to purchase is for your home.
The Right Carpet for the Right Room
Before you head out shopping for carpet, it's important to assess which rooms are going to receive carpet installation. That's because certain rooms of your home experience higher traffic and a higher likelihood of accidents. For example, playrooms, living rooms, and dining rooms are more likely to experience food spills and daily mishaps than areas like bedrooms or offices. For this reason, it's important that you know where you're planning to install carpet before you start deciding on a carpet product. By knowing where you're installing carpet, you'll be able to choose carpet products based on your specific needs and make a more educated decision. Some rooms need features like wear and stain resistance, while others are better suited for cloud-like, soft carpet that we love to touch. Be sure to keep this in mind when thinking about the best carpet for your home.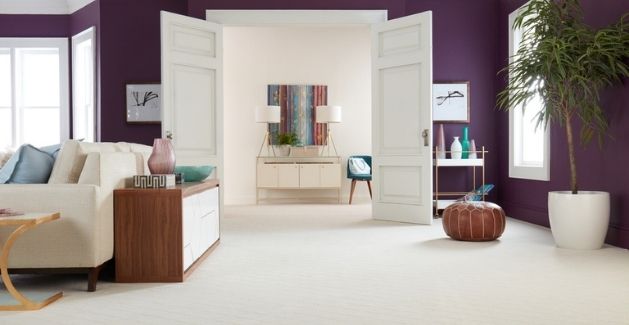 What's the Best Type of Carpet?
There are five common types of carpets on the market today. So, how do you choose between those five to get the best type of carpet for your home? It's important to consider the type of room where you plan to install carpet, as that can help you to determine the type of carpet construction that is needed for your space.
When it comes to carpet construction, the two main types you will come across are loop pile carpets and cut pile carpets. These constructions refer to the way the surface of the actual carpet fibers is presented. For instance, loop pile construction means that the fibers are bent into small loops, which creates a durable, stain-resistant, low-profile carpet. If you've heard of Berber carpet before, this refers to a level loop carpet that is an excellent choice for resisting foot traffic. Thus, your entryways, hallways and stairs would probably benefit most from this type of construction. Carpets with multi-level loops that vary in height will give carpets a patterned texture. In addition to adding visual interest, textured carpet also aids in the easier cleanup of dirt, mud, pet accidents, and spills.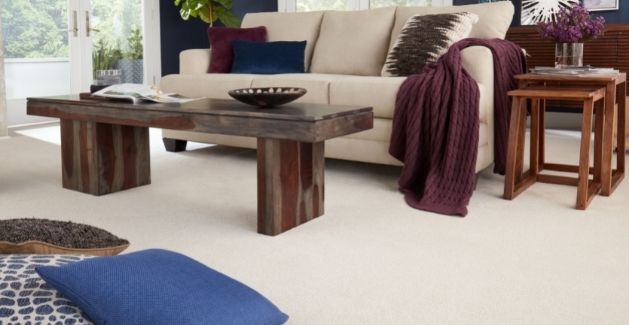 For bedrooms, living rooms and formal dining rooms where you want extra softness, a cut pile carpet will probably be the best fit. Cut pile carpets literally 'cut' the yarn tips so there aren't any loops, and the carpet pile is softer and thicker than loop pile carpets as a result. Regal plush carpets and smooth, twisted Saxony carpets belong to this category, but due to their rich construction can hold footprints and furniture dents longer. Textured cut pile, friezes, shag carpets, and cable carpets all belong in the cut pile family as well, offering undeniable comfort and high style. Most of these high fashion carpets are not a great fit for your rooms that will see the most activity and foot traffic. For the best of both worlds, a cut and loop carpet features cut pile and loop pile fibers within the same construction creating beautiful patterns. In addition to adding softness and texture to a room, it's a good choice for hiding dirt and stains.
What Does Carpet Face Weight Mean?
When comparing different carpets while shopping, it can be misleading to use a carpet's face weight measurement as the sole comparison for quality- as some manufacturers would want you to do. Face weight is measured as the weight in ounces of the carpet pile per square yard of carpet. A higher face weight can very well indicate a higher quality carpet, but it's safer to use that as one standard in addition to tuft twist, fiber type, pile height and pile density. The experts at Carpet One Floor & Home will help you understand what each of these characteristics mean and how they will serve your home performance-wise in one carpet. Carpet technology has even evolved to produce carpets with high degrees of specific performance attributes such as waterproof Oath by Resista® or permanently stain resistant Innovia Xtreme Clean™. As daunting as carpet shopping can seem, rest assured that the option you need exists and in a style that you will love!
What is Carpet Density?
Carpet face weight and carpet density are two different things. So what is carpet density? Carpet density is determined by how close together the fibers of the carpet product are set in the backing. While carpet density is a factor that can help determine a carpet's quality, it's not the only one. For this reason, it's important to consider all the factors and features of a carpet before making a decision on what type of carpet is best for your home.
What is the Best Carpet?
All in all, the best carpet is one that works for your lifestyle, room, budget, and interior design. You can find the best carpet for your home by taking note of these factors, which will make it easier to narrow down different carpet brands, carpet colors, and carpet constructions. No matter what carpet type you decide to install, keep in mind that it will be installed in your home, so it's crucial that you love it!