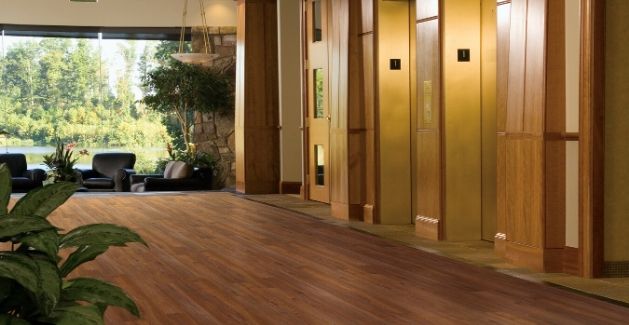 Brazilian cherry hardwood floors show off their exotic essence, growing naturally in Central America and the Caribbean. With their massive height of up to one hundred and twenty feet and huge diameter of up to six feet, Brazilian cherry trees produce especially dense wood. Because of the high density, Brazilian cherry wood is commonly used to craft fine furniture, cabinets, tool handles, and other products that require sturdy wood pieces.
Brazilian Cherry Hardwood Grain
Brazilian cherry grain is a fine-grained wood, meaning that the lines it has are tightly bound and close to each other. The texture of Brazilian cherry is medium to coarse, with an interlocked grain pattern. This interlocked pattern occurs while the tree grows, with growth occurring in different directions depending on the age of the tree. Brazilian cherry also has few knots. Fewer knots mean a sturdier floor, with density being more consistent from one piece to the next.
Brazilian Cherry Hardwood Stain Colors
The color of Brazilian cherry hardwood floors naturally varies in color from burgundy to red, orange, and some pink tones. Some Brazilian cherry is red-brown with brown streaks running through. The warm, rich tones of Brazilian cherry hardwood can be stained, but because some of the hardwood is naturally dark and red-toned, choosing a stain that is evident against the bright hues can be tough – though it can be done. Brazilian cherry also darkens over time, so stains will deepen with the hardwood as time passes.
Is Brazilian Cherry Hardwood Flooring Durable?
The density of Brazilian cherry hardwood makes it extremely resistant to dents and scratches. As arguably the toughest hardwood floor available on the market, homes with high activity levels can benefit from choosing Brazilian cherry because it is so resilient when exposed to both harsh and quiet days.