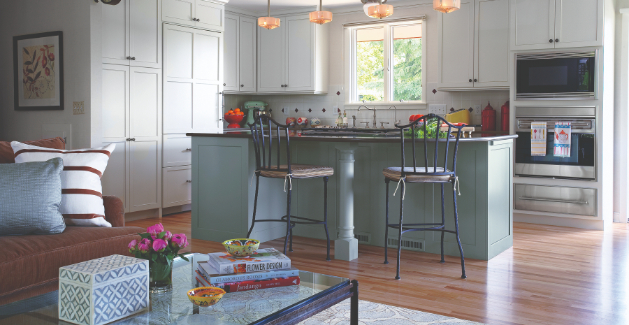 The time has come: You're ready to purchase hard surface flooring, and you love the look and feel of hardwood floors. Now it's time to determine if you want to invest in genuine hardwood flooring or go for a more budget-friendly laminate flooring option. You might have come across the terms "faux wood flooring" or "fake hardwood flooring" in your shopping journey. However, these distinctions will not help the decision-making process.
A sound purchasing decision will come down to the questions you ask and which answers meet your preferences. Questions like, what's the major difference between hardwood and laminate? In fact, what is laminate? During the purchasing decision, there are tons of attributes to compare: the material quality, the price, is the price difference justified, the difference in durability, longevity, and ease of maintenance. Once you add engineered hardwood flooring into the equation, now you have even more attractive options, and more product characteristics to mull over! Keep reading, because we're going to answer all those questions – and more – to help you make the best flooring decision for your home.
What is Solid Hardwood Flooring?
Solid hardwood flooring is exactly what it sounds like – flooring material made from timber or trees that is solid all the way through. It's been used in homes for as long as they've been built, and right now, the popularity of hardwood flooring is extremely high. As a sound foundation for interior design, hardwood floors are a timeless investment and will not go out of style.
Solid hardwood flooring is made utilizing real trees that are harvested and cut into boards, called planks. The planks are sanded down until they're smooth, then cut into a variety of lengths and widths. Solid hardwood floors are typically stained after they are installed, which enhances the beauty and visibility of the grain. Prized for its strength and ability to stand up to the wear and tear of daily living, the standard thickness for solid hardwood floors is ¾", but there are also some ½" and 5/16" options. The current trend of wider, longer hardwood planks has given manufacturers even more inspiration to design fresh and creative new styles.
What is Engineered Flooring?
Engineered flooring is also a 100 percent wood product. However, instead of being made of one solid piece of wood, the planks are formed from a process of heating and pressing multiple thin layers of hardwood (veneers) and plywood lying perpendicular with each other into "plies." This process is repeated multiple times, typically more than three times and up to 12, depending on the quality of the engineered flooring. The average engineered plank is constructed of five plies. It can be constructed or cut into different sizes as needed.
What is Laminate Flooring?
Laminate flooring is a composite wood product that's made to mimic hardwood flooring or natural stone. The first bottom layer stabilizes the laminate plank. The next layers are synthetic fiberboards, which give the laminate strength and durability. Finally, the top layer provides the flooring design, a photographic image (usually woodgrain, though sometimes stone). The entire product is covered with a melamine clear coat finish to protect the image and allow it to show through. The quality of laminate materials has greatly improved, along with their construction, realistic texture, and overall appearance.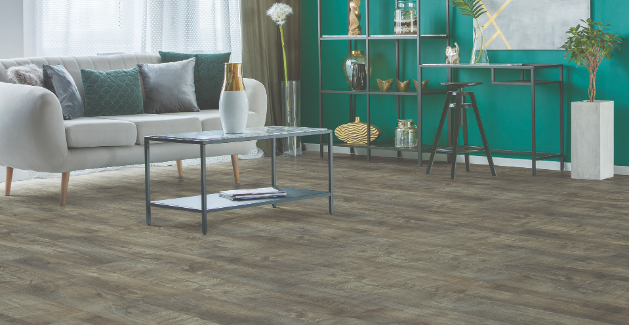 Compare the Pros and Cons of Laminate vs. Hardwood
Laminate Flooring
There are multiple benefits to installing laminate flooring in your home. It's a great flooring option if you want the look of real hardwood without the major hit to your design budget. It's simple to install yourself – most types are installed via the floating method, where the pieces easily 'click' together and don't require nailing to a subfloor. Laminate can be installed below grade, meaning below the earth's surface – typically a basement or the lower level of a split-level house. It can even be installed right over almost any other flooring material, whether that's concrete, plywood, vinyl flooring, or oriented strand board (OSB).
Laminate flooring is usually less expensive than other flooring options, costing about $1 to $3 per square foot or more, compared to $5 per square foot or more for hardwood floors. (Of course, the exact prices always vary based on the types of materials used, and other factors including the size of your home and even where you live.)
Laminate is great for homes with dogs and cats because its surface is resistant to scratches, water, and stains when quickly cleaned up. While hardwood floors can fade in the sunlight, laminate resists such aging, and is easy to clean, though some brands may require the use of special cleaning products. Laminate flooring usually comes with a 10-year warranty, and with proper care, laminate flooring can last between 15 to 20 years.
However, laminate will not generate as strong of resale value for your home since it's not considered "real" wood. And while the laminate surface is water-resistant, water below the surface can cause serious problems, including mold and warping. Once laminate flooring has been compromised by moisture damage, the damaged flooring has to come out and be replaced. There's no refinishing laminate floors, not even patching.
Installing laminate floors is "simple" but not always easy. It takes a certain amount of skill to do it correctly. If not done properly, you could actually end up voiding your warranty. If you want to install your laminate flooring yourself, study the installation instructions carefully. Many manufacturers and retailers offer helpful instructional videos online. If you're hiring a professional, make sure they know what they're doing.
Engineered Hardwood Flooring
Engineered hardwood flooring can be slightly less expensive than solid hardwood, but an equally good-looking and durable choice. Because it is a genuine wood product and looks so much like traditional solid wood flooring, it can increase the value of your home almost as much as real hardwood floors. Engineered hardwood can be used in any room of the house, especially in living rooms, dining rooms, family rooms, and bedrooms. Engineered flooring can also be installed at every grade of the home – below, on and above grade – and tolerates changes in humidity well, making it an excellent choice for certain geographic locations, especially homes in the Southern and Western U.S.
Engineered hardwood typically uses a tongue and groove 'Click Loc' installation method creating a tight seam. The installation system allows the product to
be floated over a cork or foam sub-layer on a secured subfloor of any type (for instance, concrete, vinyl, or plywood.) It typically comes in three grades, low, medium, and high:
Low: Usually has three plies topped with a 1/16" to ½" thick veneer. Costs typically run $3 to $5 per square foot.

Medium: This option will have five plies with a thicker layer of veneer. It usually costs between $5 and $10 per square foot.

High: The highest-priced engineered flooring will have seven or more plies with a veneer made from exotic wood that is 1/6" thick. The planks will cost $8 to $13 per square foot.
The cost of installation is always subject to material costs, the size of the planks, the size of the rooms you're flooring, and even where your home is located. You can typically expect the installation of engineered hardwood to run between $4 to $8 per square foot, or more.
Because engineered hardwood floors are topped with veneer, they are prone to damage from high heels and heavy traffic. Thanks to innovative technologies, many of today's engineered floors are protected with a topical coating that is water and scratch-resistant. It is still recommended to use furniture pads to protect your floor from scratches. It is also essential to clean your floor regularly with a dust mop and vacuum and to respond quickly to spills. Check the warranty and cleaning instructions of your engineered hardwoods to ensure proper care.
It might be hard to tell the difference between hardwood and engineered flooring until they need to be replaced. Hardwoods can be refinished, but you'll be lucky if you can refinish your engineered floors once, or possibly twice, depending on how thick the veneer is on the boards. Always check the manufacturer's guidelines on your engineered hardwood flooring. In most cases, your engineered flooring will last 20 to 30 years, though thicker boards can last from 40 to 80 years.
Solid Hardwood Flooring
Solid Hardwood floors are an outstanding investment and not just because of resale value – increasing a home's selling price an additional 2.5 percent, according to some real estate experts. Few features in a home scream "quality" the way hardwood floors do! With their gorgeous swirls of natural grain, hardwood floors add warmth and beauty to many different styles of homes – from traditional to modern and everything in between. They are sturdy and with proper care can last for generations.
For many homeowners, cost will often be the deciding factor. Solid hardwood is an expensive flooring option, and this price tag can vary based on the type and quality of the wood. When you're shopping, expect to see material prices broken down into three categories:
Low: Usually softer woods like pine, around $3 to $6 per square foot.

Medium: Harder and more popular options like oak, hickory, and walnut, approximately $5 to $8 per square foot.

High: Expensive and exotic woods, Brazilian walnut, tigerwood, mahogany, cypress. Expect to pay between $8 to $14 per square foot.
Unless you have experience, installing solid hardwood floors isn't considered a DIY project. Planks are cut tongue and groove style so that the groove cut of one plank fits into the tongue cut of the neighboring plank until all the boards are joined together to make the floor. The planks are nailed to the subfloor through the tongue so that the nails aren't visible once the floor is finished.
Solid hardwood floors usually require professional installation, and costs can vary widely based on which material you choose, the size of the planks, the size of your home, and even where your home is located. Generally, you should add another $4 to $8 (or more) per square foot for installation.
Because wood is stained, the flooring can take on a different appearance – darker or lighter – depending on the richness of the shade or number of applications. These days, wood floors are a popular choice for practically any room of the house, but especially general living spaces – living, dining and family rooms, foyers, bedrooms, and even kitchens. Solid hardwood floors are not suggested in basements because of the damp conditions, but engineered floors can be installed in these spaces.
As beautiful as solid hardwood floors are, caring for them can be labor intensive and take more time on a monthly basis. A few tips:
Use furniture pads to keep the floors from getting scratched by moving furnishings.

Clean up water immediately to avoid staining.

Even sunlight can discolor most hardwood.

Hardwood floors require regular light cleaning with a dust mop or light vacuum.
However, the good thing about solid hardwood floors is their longevity. Even if they are damaged by water, scratches, or anything else your family throws at them, solid hardwood can be refinished many times throughout their life. Depending on the size of the job and other factors such as materials, location, or expertise, you can expect to pay anywhere from $1000 to $3000 or more to refinish your solid hardwood floors.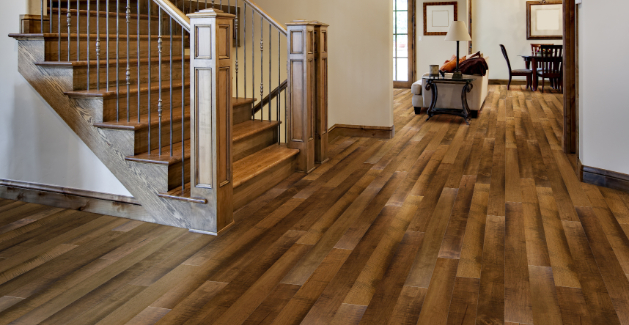 Flooring decisions are big, costly, and can be potentially disruptive whichever option you choose. There's the design side – the aesthetics, the look, and feel of your home. There's the practical side – the cost, the function, and the quality of the flooring.
Other questions to consider might include:
Where will the flooring be located?

What sort of traffic does it need to withstand?

What's your budget?

Do you want to install it yourself?

How much maintenance are you willing to put in?

Is the floor in a high moisture area?
When considering the right flooring material for your home – laminate vs. hardwood – you need to think about your current lifestyle, but also what it might be like in the future. Think about what each type of flooring has to offer, compare the pros and the cons, and what you're looking for in a flooring product. The flooring you choose might come down to price, or it might be all about the vision you have for your home. It might be a short-term versus a long-term solution.
Whatever you decide, laminate vs. hardwood, there are countless options available at a variety of price points and styles. When you are ready to receive a total project cost estimate, you can submit a Free Estimate Request Form to your local Carpet One Floor & Home store and begin creating your new favorite rooms!