A Comprehensive Guide to Choosing the Right Tile for Your Space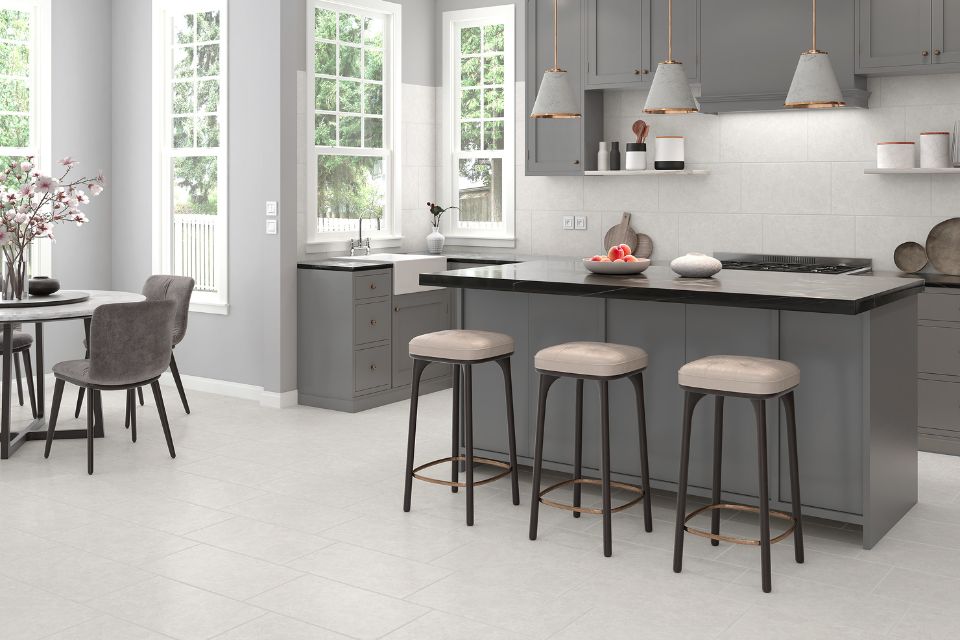 Havana White Matte/Satin Ceramic by Emser Tile
What is Tile?
Tile has a rich history in the world of interior design. It can be used to add a colorful backsplash in your kitchen, create an art-deco accent wall in the living room, or provide a durable waterproof floor in your bathroom. But not all types of tiles are alike. Before you take on your next home renovation project, you'll want consider the differences between wall tiles and flooring tiles.
Unlike decorative wall or backsplash tile, tile flooring must hold up against foot traffic, dirty shoes, pet messes, and more—all while looking beautiful. The good news is that most tile is naturally water-resistant, slip-resistant, and stain-resistant, which is why so many homeowners choose to use tile in both their kitchens and baths.
Tile is an excellent flooring option all around, but some materials are stronger than others. Let's take a look at the three main types of tile flooring so you're ready to take on your next home design project:
Ceramic Tile

Porcelain Tile

Stone Tile
3 Main Types of Tile Flooring
When it's time to decide on a tile floor for your home, you can't go wrong with ceramic, porcelain, or stone. However, you'll want to consider the differences in appearance, durability, and thickness. Each flooring tile type is unique in its own way, with porcelain tiles being the strongest and impervious to water damage, and ceramic tiles being easier to cut and having a textured appearance that adds depth to your design.
Tiles can also come in many different shapes and sizes, from classic square to wood-like planks. Factors such as layout, installation, and grout influence the appearance of tile flooring. Whether tiles are placed edge to edge or used with grout can change the look of a space. As an alternative to grout, you may consider using smaller mosaic tiles between the primary tiles to create a unique look. Layout design can also deliver a similar effect, by having a pattern laid with tile or just by placing the tile on a diagonal.
When thinking about types of tile flooring, you should also consider the factor of thickness. A thicker tile is great for the floor—it will add durability and stand up to heavy foot traffic—while a thinner tile will be better suited to wall mounting. Mosaic tiles are great for accents and backsplashes because their smaller size lends to more intricate patterns.
The types of tile floors you choose can also influence your color options. While ceramic, porcelain, and stone are mostly neutral in color because of their natural makeup, new tile technology adds the option for fun mosaic colors and patterns. For a splash of brighter hues, you can always opt for glass tiles. Don't be afraid to mix and match tile materials to create texture in your space or to fit tiles to your color palette and design taste!
Ceramic Tile Floors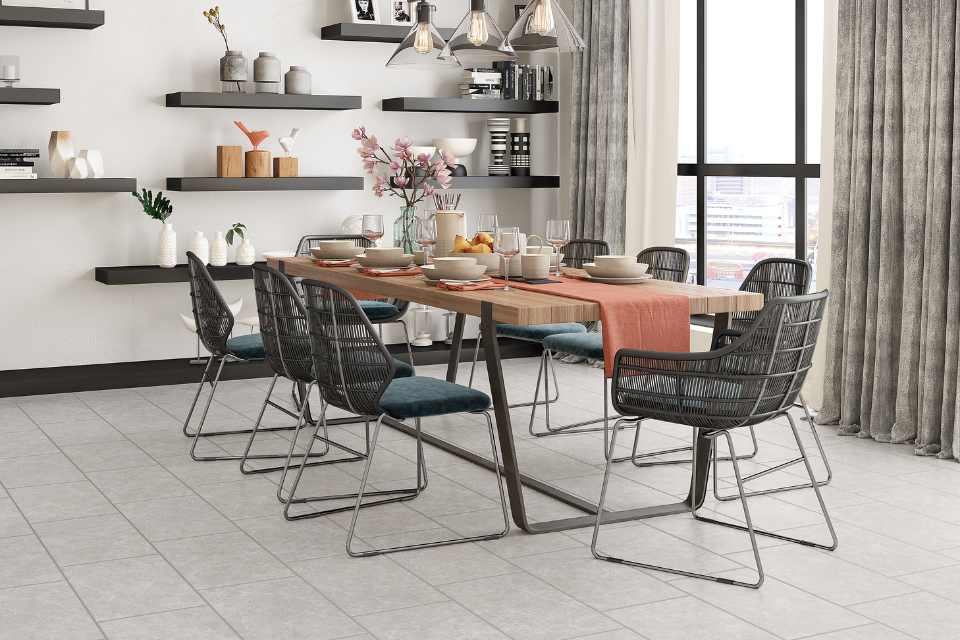 Havana Silver Matte/Satin Ceramic by Emser Tile
Ceramic floor tiles are made from clay and minerals fired at a high temperature. These glazed tiles make good insets or accent pieces since they are able to mimic natural stone and wood and are available in a variety of patterns.
Ceramic tile is easy to clean, durable, and available in many styles and textures. Whether you're looking for a beveled tile, a crackled texture, or a matte finish, ceramic tiles offer endless design options. If you have kids or pets, consider textured tiles, as they are less slippery and a safer flooring option. Suitable areas for ceramic tile installation include:
kitchens

laundry rooms

dining rooms

bathrooms

entryways
Porcelain Tile Floors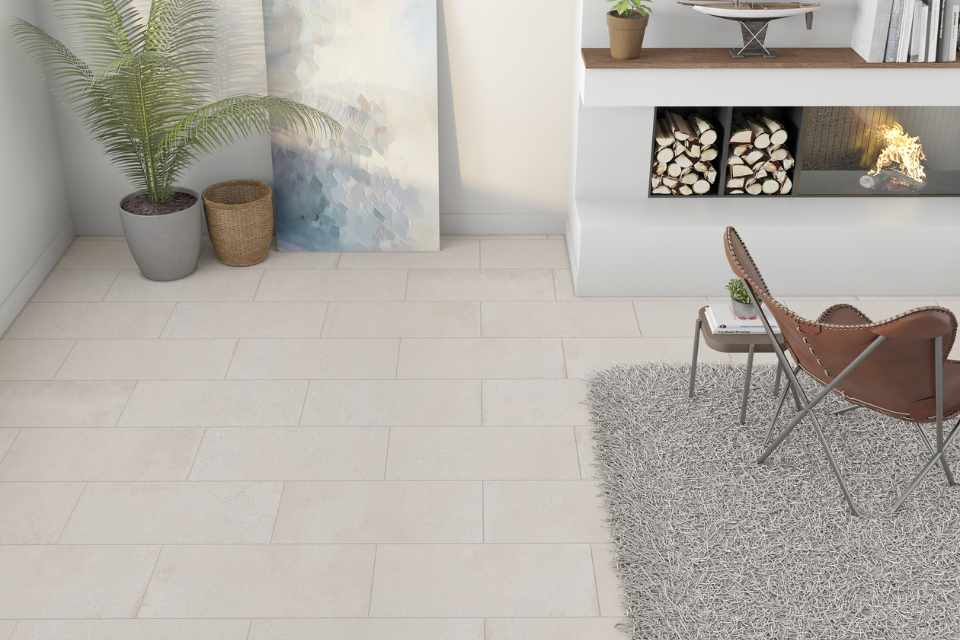 Erosion Rock Porcelain by Emser Tile
Porcelain floor tiles, like ceramic tiles, are made from fine clay but are fired at a higher temperature. This creates a denser tile that is more durable than ceramic tiles. In fact, porcelain is so durable that it is often used in commercial applications where the floor must stand up to high foot traffic and wear and tear. With a greater density, porcelain is more resistant to moisture, making it a great choice for bathrooms, kitchens and laundry rooms alike. Porcelain is suitable for a wide array of applications both indoor and outdoor, as it's tough durability can withstand wear from outdoor elements.
Not only is porcelain durable, but it's highly coveted for its style. Porcelain stone lookalikes come with authentic color variations, veining and pitting while porcelain wood lookalikes perfectly copy natural graining and hardwood patterns. Porcelain tiles are up to date on the latest trends with styles like washed cement effects, block flooring, and chevron patterns.
Stone Tile Floors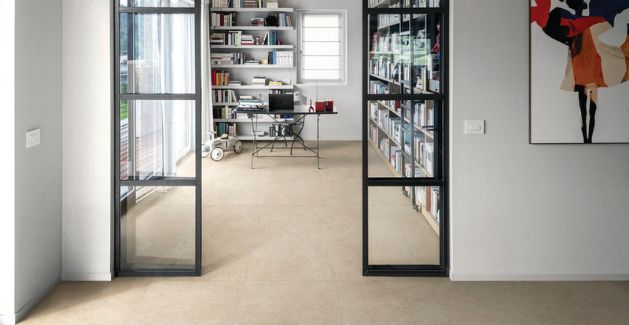 Limestone Res Tile by Daltile
Natural stone floor tile comes in a variety of colors and textures giving you a wide range of options. Stone floors are perfect for kitchens, bathrooms, and entryways. Depending on the type of stone you select, stone tiles can complement a wide range of styles from rustic to contemporary. You'll also find that no two tiles are alike, giving your space a unique character.
Of all the types of tile, natural stone flooring is the easiest to resurface to hide damage incurred over time. From limestone to marble to granite to travertine, there's an abundance of natural stone materials to suit your design style. Each natural stone has unique qualities —for instance, slate tile is not only durable but also known for its rare natural variations of color ranging from gray to green to purple to black.
Moreover, installing natural stone tile will increase the value of your home, as this material is highly coveted for its elegance and longevity. Affordable and accessible, you can easily update your kitchens with granite or add marble tiles to the bathroom all while boosting your home value.
It is important to consider the maintenance for these floors, as natural stone tiles require cleaning with neutral cleaners specifically designed for stone. Most stone cleaners have a concentrated pH neutral that will not affect tile sealants or coatings. Be sure to consult the warranty guide for your stone tile product to find proper care instructions.
Other Types of Tile
There are many other materials that can be used to compose tile flooring from glass mosaic patterned tiles to polished cement tile floors. Let's take a look into a few alternative tile options.
Vinyl Tile Floors
Vinyl tile flooring stands as a versatile and cost-effective solution for those seeking durability and aesthetic appeal in their homes. With various types catering to different needs, consumers have a range of options to choose from based on their preferences and lifestyle. Available in wood look and stone look tiles, luxury vinyl tile flooring emulates the look and feel of natural materials, providing a high-end appearance without the associated costs and maintenance. One of the key advantages of vinyl tile flooring lies in its water-resistant properties, making it an excellent choice for moisture-prone spaces like kitchens and bathrooms. Additionally, these floors are known for their easy click-and-lock installation.
While the wide array of design options ensures that homeowners can achieve the desired aesthetic while enjoying the practical benefits of vinyl tiles, it should be noted that vinyl tile floors may lack the authentic warmth of natural materials like stone and can often scratch more easily. They are less durable than ceramic or porcelain tile, but if you're looking for a contemporary, classic, or rustic style, vinyl tile floors provide an adaptable foundation for any interior design vision.
Porcelain Wood Tile Floors
Porcelain wood look tiles offer a captivating blend of rustic charm and modern durability, making them a popular choice for homeowners seeking the timeless appeal of hardwood floors with added resilience. There are many benefits to porcelain wood tile floors such as remarkable durability, scratch-, stain-, and moisture resistance, which makes them ideal for high-traffic areas and spaces prone to spills, like your kitchen and bath. Unlike natural wood, porcelain wood tiles are impervious to water damage, ensuring longevity and low maintenance.
Selecting the perfect wood-look tile involves considerations of color, grain pattern, and plank size to achieve the desired aesthetic. Additionally, the installation process demands attention to detail to ensure a seamless and realistic appearance. Despite the upfront considerations, the long-term benefits far outweigh the initial effort. Porcelain wood tiles are not only aesthetically pleasing but also require minimal maintenance, making them a practical and visually appealing choice for those who desire the warmth of wood without compromising on durability and upkeep concerns.
Mosaic Tile Floors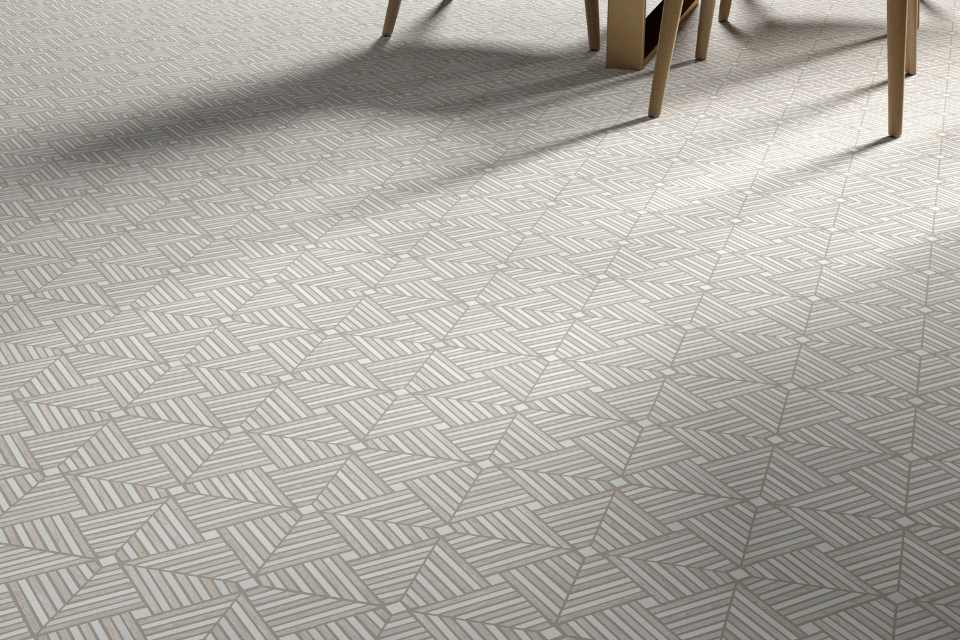 Alluro Cream Mini Palace Polished Mosaic by Emser
Mosaic tiles are at the intersection of artistic expression and practical flooring solutions. Crafted from an array of materials including glass, ceramic, and stone, mosaic tiles present a tapestry of possibilities for interior design enthusiasts. The diversity in materials allows for a broad spectrum of aesthetics, from the sleek and contemporary allure of glass subway tile to the timeless elegance of natural stone compositions. The versatility of mosaic tiles can be seen through the countless design options and intricate patterns they offer.
Whether arranging glass tiles into captivating geometric shapes or creating a classic checkerboard with ceramic tiles, the design possibilities are limitless. Mosaic tiles aren't confined to a singular application; they flourish in kitchens, bathrooms, and even as eye-catching accents in living spaces. For optimal results, meticulous installation is key, and best practices involve hiring skilled installation experts who know how to select the right adhesive for the chosen material and ensure a level surface.
Cement Tile Floors
Cement tiles are renowned for their unique composition, typically consisting of a mixture of cement, sand, and pigment, resulting in a sturdy and visually striking surface. The hallmark of cement tiles lies in their unparalleled diversity of patterns and designs, ranging from intricate geometric motifs to large format industrial tiles to vibrant, hand-painted encaustic styles. This wide array of choices empowers homeowners to infuse their spaces with character and individuality.
As with all things good, cement tile floors come with pros and cons. On the positive side, they are exceptionally durable, eco-friendly, and resistant to moisture, making them suitable for various settings, including kitchens and bathrooms. Yet, it's important to note that cement tiles may require periodic sealing to maintain their integrity. Care and maintenance involve using a pH-neutral cleaner to preserve the vibrant colors and intricate patterns.
Terrazzo Tile Floors
Terrazzo tiles, composed of a skillfully blended mixture of marble, granite, glass, and other materials, are a testament to meticulous craftsmanship. The manufacturing process involves pouring this mixture into molds, followed by grinding and polishing to unveil a smooth surface. Terrazzo tile floors boast an array of advantages, from remarkable durability and resistance to stains, to a unique ability to contribute to sustainable design through the incorporation of recycled materials.
However, considerations include the need for professional installation due to the intricacies of the process and the potential for the surface to be cold underfoot. The design possibilities are truly endless, ranging from classic monochromatic patterns to bold and vibrant combinations, allowing homeowners to create a truly bespoke aesthetic. For optimal results, it's recommended to engage in meticulous planning, ensuring a seamless installation that brings the timeless elegance of terrazzo tiles to life in any space.
What Type of Tile is Best for Flooring?
When choosing tile flooring for specific rooms in your home, some types fare better than others. First, consider the lifestyle needs of your room:
How much foot traffic does your room see? (Is it a high-traffic area like an entryway, or an infrequently used sunroom?)

Do you need waterproof tile? (Especially important if you're redoing your bathroom or kitchen!)

Do you require a non-slip surface? (A matte finish is a great way to provide stability.)

How durable does your tile need to be? (Again, consider the foot traffic and overall purpose of the space.)
The two most popular rooms to install tile flooring in are kitchens and bathrooms. But which type of tile should you use for each space?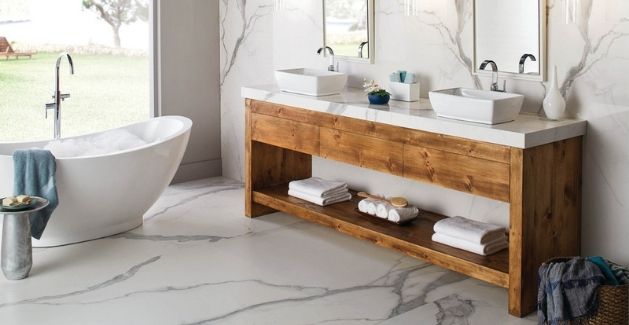 Statuario Res Tile by Daltile
Ceramic is the most popular tile for kitchen tile flooring since it's available in endless color options, plus its low maintenance and durable. While less hard than porcelain tile, ceramic is often glazed in kitchen spaces to make cleaning up spills and stains easy.
Porcelain tile, on the other hand, is more often used for bathroom tile flooring because its waterproof, trendy, and cost-effective. Since the water absorption rate for porcelain tiles is less than ceramic, it's better for rooms with high moisture levels. Depending on the style of porcelain tile you choose, the tiles can range from richly textured (which makes a great non-slip surface) to smooth marble tones.
Balancing functionality and aesthetics is important when choosing the right tile for your home, so more than anything find a tile that fits your personal design taste while also adhering to your household needs.
Tile installation can be tricky, with tile spacing and grout lines, not to mention the array of tools you need on hand, so rely on the experts at Carpet One Floor & Home to save yourself the hassle. In fact, you can get a free estimate today!
Plus, our flooring professionals can help you find what you're looking for. Your local Carpet One Floor & Home store is happy to help you with all your home flooring needs. Shop our extensive catalog to get your project started!